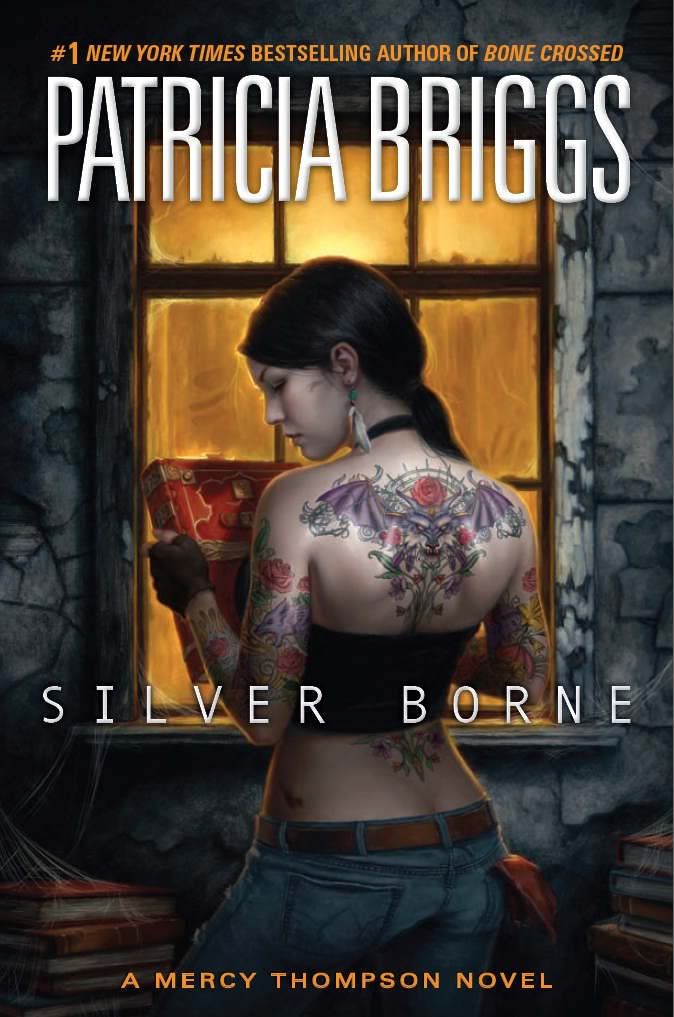 Title
:
Silver Borne
Author
: Patricia Briggs
Publisher
: Ace
Pub. Date
: March 30, 2010
Format
: Hardcover (352 pages)
Source
: Publisher
When mechanic and shapeshifter Mercy Thompson attempts to return a powerful Fae book she'd previously borrowed in an act of desperation, she finds the bookstore locked up and closed down.


It seems the book contains secret knowledge-and the Fae will do just about anything to keep it out of the wrong hands. And if that doesn't take enough of Mercy's attention, her friend Samuel is struggling with his wolf side-leaving Mercy to cover for him, lest his own father declare Sam's life forfeit.


All in all, Mercy has had better days. And if she isn't careful, she might not have many more to live...
Review
The Good
Urban Fantasy is a difficult genre to master. All too often, a series begins to falter after only a few books because the authors feel that they need to bring in new elements to make each story fresh and exciting. But what ends up happening, is that the plot, the world, the characters...they all become too convoluted. Everything becomes too complex, too farfetched.
This is not the case with Briggs'
Mercy Thompson
series. Each new book exceeds the last while staying true to the characters and the world in which they live. Since the first book,
Moon Called,
Mercy Thompson has been a tough as nails VW mechanic, lacking in girlish charm and stubborn to boot, with more charisma and compassion than you would expect from a tomboy, coyote shifter. We've seen her delicate side, as well as her merciless nature (pun intended), but in the end she is the same Mercy Thompson that we have come to know and love.
In
Silver Borne
, the plot picks up with the mystical Fae book that was previously lent to Mercy by Phineas Brewster. Phin goes missing, and Mercy comes to learn that a powerful Fae will do anything to get their hands on the book. So it is up to her to protect the book and to find Phin. Mercy's instincts and cunning come to the forefront and she once again proves that she is the coolest badass in the Tri-cities.
Samuel lovers will both love and hate this book. Now that Mercy and Adam are on their way to what promises to be a meaningful relationship, Samuel is front and center. Unfortunately, he's not all gumdrops and rainbows. Samuel is hit hard with a deep depression, and becomes a danger to himself and those around him. The relationship between Samuel and Mercy is heart wrenching. Despite her love for Adam, Mercy proves that she cares deeply for Sam and is willing to do anything to keep him from harm.
Mercy continues to struggle with the after-effects of Tim's attack while shaping her bond with Adam. Their relationship is refreshing in the world of PNR. Briggs' didn't just throw them into eachothers arms and make them gaga for one another. Instead, we get to experience the growth of two characters who are learning to love and cherish their companionship. They've made strides, and their relationship is finally passed it's infancy.
Naturally, it doesn't come easily. Now that Mercy is a part of Adam's pack, the werewolves are full of unease and some are up in arms about having a coyote on their turf. Pack loyalties are shifting, and betrayal rears its ugly head, forcing some relations to sever and some to fortify.
The Bad
Although each book picks up after the previous one, Briggs' takes pity on us all and tidies up loose endings nicely. Major questions are answered in each book, with no real cliffhangers. However, the books all seem to end far too soon, the final chapters rushed. Silver Borne is no different. It felt as though the climax hit, and then the rest went into fast-forward.
Overall
Another fantastic book in the Mercy Thompson series. Relationships continue to strengthen, characters experience growth while staying true to themselves, pack politics and betrayal make for great suspense and Mercy seems unable to keep herself out of trouble. Briggs' writing is tight as ever, keeping readers on their toes and eyes glued to the pages. I can't wait to see what Briggs has in store for us next.
Rating
Don't miss the release of
River Marked
, the sixth installment of the
Mercy Thompson
series, available March 1, 2011!